27 Jun 2019
State borders protection and internal security – INSEC 2019 Conference

Share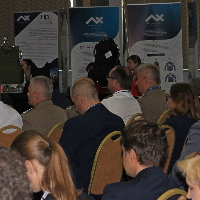 On the 12th of June 2019 in Warsaw another International Exhibition and Conference INSEC was held, devoted to the subject of border protection and internal security, under the honorary patronage of the Minister of Interior and Administration as well as the Chairman of the Parliamentary Committee of Administration and Internal Affairs. Institute of Security Technologies MORATEX was a co-organizer of this event with the status of the Conference Partner.
The discussion was organized in the form of three subject panels moderated by professionals, with the following lead topics:
1) Cooperation of services responsible for border security and internal security in the 21st century,
2) Modernization of services responsible for border protection and internal security – achievements and plans,
3) The most important challenges for services responsible for the border protection and internal security – ICT, civil protection, security in connection with organized mass events, security in transport and communication.
During the breaks between the panels, the organizers presented the skills demonstrations of the officers of the City Guard of the Capital City of Warsaw. It turned out to be beneficial for maintaining the ability to focus on difficult discussion topics. Many thanks and congratulations to the Guardians for their awe-inspiring fitness and dexterity.
Among the many issues raised by the panelists, from the point of view of our institute, the most important issues was providing the officers responsible for safety with the personal protection equipment. These are often inconspicuous, but very modern products, using advanced technologies, which definitely require protection of intellectual property rights. From our own experience, we know that on this ground some legal and organizational barriers arise – after the development of a technology or a product, but before the final implementation into production. This is because various organizations, formations and forces participate in the entire sphere of security assurance, operating on the basis of different legal regulations, and their goals differ in important details. Fortunately, such meetings and discussions as INSEC 2019 create opportunities for direct contacts, a look from a wider perspective and the exchange of information as well as for finding solutions that are beneficial for the public interest. The Institute of Security Technologies MORATEX is proud that it contributes to that and carefully listens to signals coming from the many authorities involved and responsible for ensuring national security, both in the interior and along the state borders.